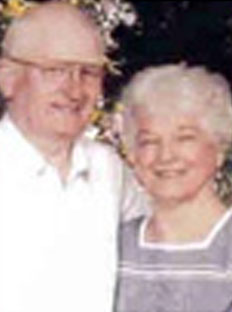 Carroll & Betty, Illinois
Hello! Our names are Carroll and Betty, ages 73 and 75 years respectively, from Illinois and we winter in Arizona. In January 2005 we were introduced to
JC Tonic®
by Carson Mansfield while he was at our County Store at Towerpoint Resort.
I am Carroll and three years ago I was diagnosed with type II diabetes and have controlled the disease by eating properly. I had crusty skin on my head and very thick and rough callous on my heals and feet. I had developed some skin hanging from the edge of my right eyelid, which obstructed my vision. Since taking
JC Tonic®
, the hanging skin on my eyelid has reduced in size and my toenails are beginning to look pink again. A month after using
JC Tonic®
, the crustiness is gone from my head and back. The diabetes remains level and I can even eat more ice cream.
I am Betty, a real skeptic. As I passed Carson's vendor table that day in January, I looked the other direction because I was determined Carroll would not get me on any more herbs. When I arrived home I found the bottle on the counter and I told Carroll very emphatically, "Don't try to get me on that stuff because I am not trying anything new." Within a month after noticing how the crustiness was gone from Carroll's head, I made the decision to start taking
JC Tonic®
.
In 1998 I had quadruple by-pass surgery, which left me with little energy. I used so many medications and herbs in the past seven years with minimal results. I would also develop bronchitis during our travels to and from Arizona.
In the first month, I noticed a significant shift in my energy level. It was tremendous and it continues to get better. Within two months of taking
JC Tonic®
, I was able to walk up and down a flight of stairs just like a normal person instead of having to take one step at a time.
Last summer I had been lying awake until 2:00 or 3:00 a.m. each night, so I began taking another product just so I could fall asleep. I'm happy to say that beginning in May, I stopped having to take the sleep aid and have been sleeping like a baby ever since thanks to
JC Tonic®
!
We thank God every day for sending Carson into our lives and sharing this wonderful product with us. It has helped us feel younger and so much healthier.